October 29, 2013
The most important part of a company's culture is its people, so we decided to share some of York's culture by interviewing staff members and sharing their stories on our blog. Meet Andrew Knutson, Director of Consulting Services and Think IT Chicago Chapter President.
Can you tell us a little about your role at York?
Well, I pushed to be called the Chief Jedi Talent Master, but it got shot down quickly. My true day job is working for both York and Think IT. For York, I am a Director of Consulting Services, and I recently took on the role of President of the Chicago Chapter for Think IT.

This new position has been one of the most exciting roles I have had the opportunity to play. My goal is to expand the Think IT brand outside of the Twin Cities, with focus on the Chicago area. I meet with companies and individuals to convey the Think IT message along with creating and establishing meaningful professional connections for the members within Think IT.
What part of your job excites you the most?
The ability to work with people and facilitate individuals' career development excites me every day. To hear someone mention that they've found, not a job or career, but that they are working on something that is their passion is amazing. The fact that we are able to help them with that achievement is so rewarding. I am fortunate enough to do something that is my passion and to help someone else achieve that gets me out of bed every day.
What has been your greatest success since working at York?
I would have to say my biggest success has been helping to contribute to the success of others. My passion is mentoring and helping people with their careers, and to see a few of our newer salespeople be successful means so much. One, in particular, that I worked with very closely over her first year of sales has just been promoted to oversee new account managers. There is no greater success story to tell than one of how people have grown and advanced within our own internal community.
What keeps you coming back not just to your job, but to York in general?
It really is the people, and the community that has been built both internally to York and externally with Think IT. Nothing is more exciting than being able to have fun at work, especially when it is your passion.
Congrats on being named President of the Think IT – Chicago chapter. What are your thoughts on Think IT and what plans/or hopes do you have for the new chapter?
It is a great organization that is building a community for the market it is in and then bridging that community into an overall network to exchange information from market to market. A medium has been developed to allow the ability for knowledge sharing, mentorship and networking expansion without the worries of fees and outside vendors.
The plan for Chicago is to stay true to what we have developed with Think IT in the Twin Cities, but continue to focus on how we can add more value to our membership. Our Chicago Think IT team is great and we will make sure to keep the membership growing and ensure that we are having fun at the same time!
What keeps you busy outside of the office?
I am a self-proclaimed nerd. When not spending time with my family, I can often be found traveling off to a new adventure, messing around with some new piece of technology, playing some type of sport (golf has taken over my life!) or hanging out with friends. I have a constant Minnesota/Illinois battle going on as well, since I am a Bears/Vikes fan and a Cubs/Twins fan.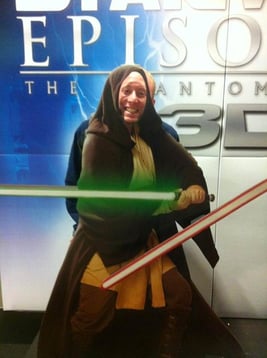 What's something we don't know about you?
I am an absolute Star Wars and movie nut! I have a huge collection of DVDs and Blu-rays, along with a number of limited edition Quentin Tarantino movie posters. I could spend days on end inside my house just watching movies!
Check out our other Employee Profiles!
Posted By: Briana Perrino
Tags:
No comments yet. Be the first!
Your Comment: