April 27, 2017
Our mission is to provide creative, cutting-edge IT solutions to help companies achieve business, technology, and operational goals and objectives. We believe strongly in creating a true partnership approach with our clients and consultants that fosters a long-term, trust-based relationship.
Security Web Application Engineer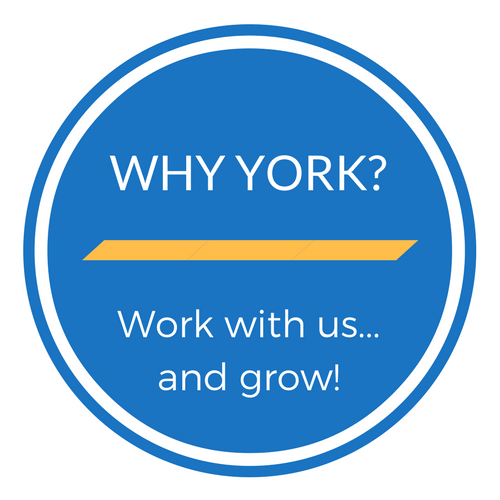 York Solutions is working with one our clients in search of a Security Web Application Engineer. This is a 6+ month contract opportunity with possible conversion.
An ideal candidate would fit the following job description:
BA/BS or equivalent experience
7 plus years of experience with information security
Has in-depth knowledge of network security and security operations, including web proxy design, build and installation experience
Experience troubleshooting and maintaining firewall infrastructure in an enterprise environment
Experience developing in Python, Ruby or BASH Programing
Experience in Enterprise Cloud technology integration
In-depth knowledge and experience of Content Delivery Networks (CDN) and Web Application Firewalls (WAF)
Working knowledge of network security and security operations, including web proxy design, build, and installation experience
This job was posted on 4/24/2017. Click here to view the original posting.
IT Sourcing Manager
A direct client of York is seeking a Strategic Sourcing Manager to support their IT sourcing operations and contract life cycle. This person will be responsible for improving company's spending, supplying partnerships, and overall procurement management.
Responsibilities:
Manage the company's supplier portfolio
Support the administration of Information technology budgets, purchases, vendors, contracts, and software licenses
Negotiate strategies, best practices, personnel, and teams
Improve processes, procedures, workflow and organizational structures for contract management
Calculate costs of procurement and suggest methods to decrease expenditure through industry benchmarking
Optimize sourcing procedures to attain maximum efficiency
Estimate risks and apply risk minimizing techniques
Approve proposed contract changes and modifications ensuring adaptations are reasonable and in the best interest of the client
Resolve vendor disputes with an acceptable outcome for all parties
Administer commercial and financial arrangements with vendors to include billing, invoicing, performance incentives and remedies, and internal chargebacks, where appropriate
This position was posted on 4/24/2017. Click here to view the original listing.
Voice Engineer
Job Summary:
The Systems Engineer Principal leads the strategic and long term analysis on infrastructure technologies and organization needs. Responsible for facilitating the establishment and implementation of standards and guidelines that drive the design of technology solutions including architecting and implementing solutions requiring integration of multiple platforms, operating systems, servers and applications across the enterprise. Responsible as the highest level technical expert in one or more critical services or technologies and applies comprehensive knowledge in multiple areas. May serve in lead role.
Core Accountabilities:
Reviews, advises and designs standard software and hardware solution builds, system options, risks, costs versus benefits and impact on the enterprise business process and goals
Develops and documents the framework for integration and implementation for changes to technical standards
Assists in the development of and manages an architecture governance process
Develops highly complex infrastructure interactions to ensure the security, stability, recoverability, and access to systems and information
Advises on enterprise-wide infrastructure systems growth requirements, capabilities, and constraints to ensure the long-term functionality and operation standards
Determines strategy for vendor solution evaluation and selection and oversees/evaluates the work of contractor and vendors to ensure quality services
Leads cross-functional teams on the development and implementation of enterprise-wide major installations, upgrades and process changes; with accountability for project execution and resource allocation
Facilitates knowledge sharing by creating and maintaining detailed, comprehensive documentation and diagrams
Provides technical guidance to project team areas as appropriate
Tracks industry trends and maintains knowledge of new technologies to better serve the enterprise architecture needs
Participates in an on-call rotation for support of systems outside of normal business hours
Required Qualifications:
Bachelor's degree preferably in Computer Science with 7 years of experience in IT relating to telephony, or 11 years of experience in IT relating to telephony in lieu of a degree
Expert-level ability to apply infrastructure lifecycle knowledge to the execution oversight of large complex projects
Expert-level knowledge of infrastructure system design and integration
Expert-level technical, business, and industry knowledge
Excellent oral/written communication and presentation skills
Exceptional human relations skills to effectively interact with executive management, peers, business partners, and vendors
Highly skilled at systems, creative, critical and analytical thinking, decision making and problem solving
Highly skilled at influencing and motivating individuals and teams
Highly skilled at hands-on communication and collaboration
Proven track record in partnering with project managers, vendors, project business owners to successfully deliver large complex projects
Communicate professionally and respectfully both in written and verbal form
Technical-Preferred Qualifications:
Skype for Business certification for administration of audio bridges, chats, desktop sharing, telephony
Session border controller such as Audio Codes
Voice and Data Carrier Networks such as Century Link, Level2, Comcast
Nice to have or client will train resource on the following as voice team also supports these systems:
Fax server administration such as RightFax
PBX administration such as Avaya Communications Manager and Session Manager
Audio Video devices such as Crestron, Polycom speakerphones, projectors, monitors, digital signage
Cloud telephony for call center teams such as Amazon Connect
This job was posted on 4/25/2017. Click here to view the original posting.
Look at our other open positionshere!
Not seeing the jobs that match your skillset? Please fill out ouronline application to be considered for future IT opportunities!

Posted By: Jaclyn Roman
Tags:
No comments yet. Be the first!
Your Comment: