April 13, 2017
Our mission is to provide creative, cutting-edge IT solutions to help companies achieve business, technology, and operational goals and objectives. We believe strongly in creating a true partnership approach with our clients and consultants that fosters a long-term, trust-based relationship.
Site Operations Admin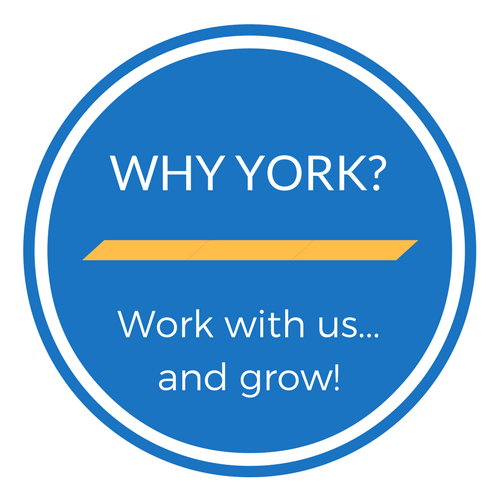 York Solutions is currently looking for a Site Operations Admin for our direct client in Chicago, Illinois. The ideal candidate would possess:
Excellent understanding of Linux, Bash and Shell scripting
Knowledge of and experience with network stack, protocols, network management and monitoring tools
Knowledge of AWS technologies – EC2, S3
Knowledge of the Apache Cloud Stack
Experience with a distributed log tool such as Kafka
Experience with automation tools: Puppet, Chef, Docker, Jenkins and/or Ansible
Knowledge in Big Data (NoSQL) and standard enterprise databases – including data modeling, testing and deployment support
Proficiency in Cassandra, HBase, or PostgreSQL is strongly preferred
Familiarity with JavaScript build tools: Maven, Gradle or Ivy
Experience with JVM and Java stack: Tomcat, Jetty
Experience working with Agile methodologies
Previous experience in a Network Operations Center, Site Operations Center, or Security Operations Center is preferred
For immediate consideration, please apply to this job posting with the most recent copy of your resume.
This job was posted on 4/10/2017. Click here to view the original posting.
Security Engineer
Position Summary
Responsible for creation, coordination, implementation and execution of cyber security solutions and providing security governance and oversight in support of the client's strategy and consistent with the IT Security & Risk Management Program Strategy. This position works closely with key business partners, internal technology teams and external vendors to detect future trends and ongoing activity, and to provide oversight and governance to projects and changes within the environment to ensure consistent implementation and effectiveness of security technology and controls. Provide security solutions and governance that protects and effectively mitigates threats to the environment. Participate in and contribute to other areas within the department and develop, maintain and implement processes for security for all platforms and ensures compliance with requirements from agencies such as FERC, NERC, and Department of Homeland Security (such as CIP, HIPAA, SOX, PCI).
Essential Responsibilities:
Engineer and implement security solutions in support of the overall security objectives and in alignment with the IT Security & Risk Management Strategic Plan
Provide technical leadership, governance and oversight for the design of information technology systems, projects and changes within the environment with a core focus on security to ensure systems reliability, accessibility and compliance
Works with others to ensure that proper security disciplines are understood and applied
Performs the role of internal consultant to help utilize the client's security capabilities, and acts as a resource to educate customers and associates on strategic security choices in available technologies
Drive and educate on the Security architecture discipline, processes, concepts and best practices
Performs technical security research, analysis and evaluation of new technology tools and provides strategic direction; maintains current on relevant technology trends; partners with the Enterprise Architecture group regarding future technology and business needs
Develop and maintain a working relationship with external service providers responsible for providing technology consulting; work with business unit executives and service providers to introduce required Cyber Security functionalities into the environment
Minimum Requirements:
Bachelor's degree with a concentration in computer science, technology, accounting or business or equivalent combination of education and experience
Minimum of 12 years' experience in IT including 10 years of direct experience in cyber security
Demonstrated verbal/written communication and presentation skills
Proven problem solving and business risk analysis skills
Ability to excel in a team environment
Good investigative, conflict resolution and negotiation skills
Must possess a broad knowledge relating to IT infrastructures and have in-depth and up-to-date experience with multiple operating systems and desk side integration
Ability to travel 25% of time
Preferred Requirements:
Expertise in two or more of the following cyber security disciplines:
Penetration testing/"red team" activities
Vulnerability detection and mitigation
Threat Intelligence
Engineering/implementation of cyber security controls
Cyber security incident response or experience with Advanced Persistent Threat (APT) threats and the tools and techniques leveraged
Subject Matter Expert leveraging the following tool sets:
Metasploit
Rapid7 Nexpose
Nessus
Maltego
This position was posted on 4/11/2017. Click here to view the original posting.
Data Lead
Our direct end client in Maplewood, MN area is looking for a Data Lead for a 12+ month project. Due to export control laws, we need US citizen or GC holders.
Required skills:
Savvy upbeat organized communicator relational concepts
SQL Data modeling
Passion for Metadata – Strong focus as this is the key to the whole role
PowerPoint – Ability to draft presentations, etc.
Familiar with Project Management – Agile
The 3 key aspects of this role are:
Project Management Assistant
Metadata
Communication – PowerPoint
This is two skill sets: Project Coordinator and a Data/Metadata resource. Data experience is a must (Teradata preferred).
Day to Day:
Keep track of who is working on what and where are they with it (Assistant)
Organizing Metadata
Developing presentations (PowerPoint)
Manage the Wiki
Data Modeling
This job was posted on 4/11/2017. Click here to view the original listing.
Look at our other open positionshere!
Not seeing the jobs that match your skillset? Please fill out ouronline application to be considered for future IT opportunities!
Posted By: Jaclyn Roman
Tags:
No comments yet. Be the first!
Your Comment: