March 24, 2016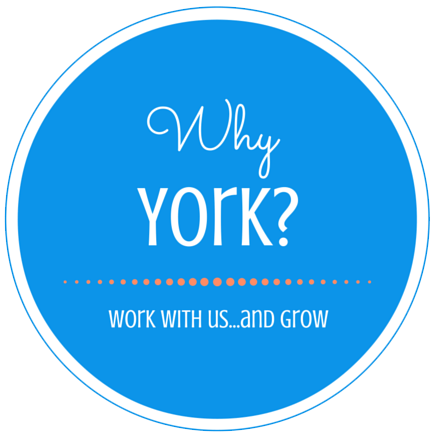 Our mission is to provide creative, cutting-edge IT solutions to help companies achieve business, technology, and operational goals and objectives. We believe strongly in creating a true partnership approach with our clients and consultants that fosters a long-term, trust-based relationship.
VP – EPMO
York Solutions is looking for a VP, Enterprise Project Management Office for a client in the Chicago, IL area. This key role sets and implements the strategic vision for the Project Management Office, including execution of Project and Portfolio Management functions, Deployment, Release Management, as well as administration, support and improvement of the Software Development Life Cycle. This includes setting strategy, insuring staff adherence to the Project Management Methodology and associated policies and procedures, thus insuring projects and programs are planned, executed and delivered in a timely and efficient manner. Delivery includes the planning of the releases, supporting the deployment of the code base, and post implementation lessons learned.
Possesses strong leadership capabilities to lead and direct teams and efforts, including proven ability to build successful and effective project teams, leading team decision-making processes, and fostering an environment of healthy team debate, collaboration and growth.
This position was posted on 3/21/2016. more details about this position.
SAP SD with EDI
Our direct end client in St. Paul, MN is looking for an SAP SD with EDI candidate for a 12+ month contract position. Due to export control laws, we need US citizens or green card holders. This person will be on the OTC (Order to cash) team so we need an SD resource that has significant OTC experience. Also, experience with EDI is a must. Interviews will be conducted as soon as possible and the client has a high preference for local resources.
This position was posted on 3/21/2016. More information regarding this position can be found here.
Open Text Opportunity
Our direct end client in St. Paul, MN area is looking for a Technical Open Text Contractor for a 12+ month contract. The Enterprise Content Management (ECM) Infrastructure Analyst will work with moderate work direction, and will identify issues/problems, but may need assistance in resolving. The person filling this positon will work as a member of the OpenText Environment Team supporting the global rollout of SAP. Due to export control laws, we need US citizens or green card holders.
Responsibilities
Implement the OpenText component software packages and related middleware including Apache and Tomcat

Maintain the software including installations, configurations, updates and patches on both Windows and Linux servers

Manage the day-to-day operations of the software infrastructure environment

Integrate the software with security authentication software (LDAP) and single sign-on

Troubleshoot performance and availability issues in the software environment

Work with the vendor and other global team members to support the software and troubleshoot issues

Instrument the application with the appropriate monitoring tools to manage performance and availability

Requires participation in off-hours pager rotation

Required
3 or more years of IT experience

Verbal and written English-language proficiency

Multi-cultural awareness – familiarity with working with clients from multiple regions and countries
This position was posted on 3/22/2016. more details about this position
Business System Analyst – Salesforce
York Solutions is currently seeking an experienced Salesforce focused Business System Analyst for a direct client in the financial services industry on a contract-to-hire basis. This individual can either sit in the client's Minneapolis, MN or Appleton, WI location. This individual will support projects by drafting requirements, performing updates, and potentially designing and executing test cases. This role will support Salesforce data and reporting.
Job duties and responsibilities
Reviews, analyzes and evaluates complex business systems, processes and user needs

Resolves highly-complex issues using simple, non-technical language. Can also consult with IT Personnel in a more technical manner and other business areas (i.e. Legal and Compliance) to help with resolutions

Manage and successfully deliver moderately-complex projects; at times may provide and lead the direction of others

Defines scope, objectives and requirements (user stories in this case) on moderately complex projects; assists in defining and designing system requirements and recommends solutions to moderately complex business needs

Assists in defining, developing, and providing information and analysis to drive and support decision-making for moderately-complex processes and business operations for internal and external customers.
Required Job Qualifications
6+ years of experience in the business system analyst field or related area

Technical expertise and strong understanding Salesforce/Customer Relationship Management

Moderate levels of analysis and independence

Solid working knowledge of systems design process and methodology, as well as knowledge/use of systems tools including, but not limited to, Microsoft Office Suite and other applications/software as required

Familiarity with testing tools
This position was posted on 3/23/2016. more details about this position
Be sure to check out our other posted positions!
Not seeing the jobs that match your skillset? Please fill out our online application to be considered for future IT opportunities!
Posted By: Anastasia Hoosman
Tags:
No comments yet. Be the first!
Your Comment: